I'm a little late, but I'm going to do my little first round run down. Might even get a little insight into my early championship favorite.
#1 Boston Celtics V. #8 Atlanta Hawks
America finally gets a chance to watch the Hawks, a team that has been mediocre since the Mookie/Mutumbo days. Josh Smith is definitely a guy to watch, he's electric. Joe Johnson may be one of the most overlooked SGs in the league, and you can see why Al Horford will be a starter in the league for years and got some serious consideration for Rookie of the Year.
Now that I got that out the way, this isn't really a series. Boston isn't Detroit, they are too hungry to let Atlanta even think they have a chance to win this series. This will be quick and painless. Garnett is on a war path, and Atlanta is just a prelude.
Celtics in 4



#2 Detroit Pistons V. #7 Philadelphia 76ers
Match-up a surprising young, athletic team against a bunch of complacent underachievers, and you have trouble. The Detroit Pistons don't think the 76ers can beat them, and the 76ers don't care. Game 1 confirmed that. I didn't believe Philly had a chance in hell, until Sunday. This series will likely help serve as evidence why I don't have Detroit representing the Eastern Conference in the Finals. It's so frustrating because they play down to the level of their opponents, and they do it consistently. They've been complacent since 2005, and what have they done since? Listen to the post-game comments, do they sound concerned? Do they sound hungry? "We've been here before. We know what it takes to win in the playoffs." Really Chauncey? So when you got overconfident last year, and LeBron padded his resume on you, you didn't take notice. You come out and display that same attitude? The Pistons have been to the Eastern Conference Finals 5 times, been to the Finals twice, and only won once. In that span, they've swept a grand total of 1 team. But ask them, and I bet they think they are a dynasty. Their window of opporitunity closes this off-season, so championship or not, don't expect to see the same team back next year. Unfortunately this one isn't going to do much. Ever since they made the All Star team, it's been downhill from there.
So much credit to Philadelphia, for coming out and playing to win. They actually have some advantages (mainly effort and athleticism) and an underrated PG in Andre Miller. The worst thing you can let an underdog do is believe. The Pistons on the other hand, will probably escape this series rather than cruise through it. I'm starting to doubt whether they'll even beat Orlando.
Pistons in 6
#3 Orlando Magic V. #6 Toronto Raptors
I don't really have much to say about this series. Chris Bosh is good, but Dwight Howard is better. Jose Calderon and T.J. Ford are better than any of the Magic's guards, but Turkoglu and Lewis are a lot better than any of Toronto's non-Bosh players. The Raptors are another team that doesn't get any national TV love during the season, and they can be entertaining, but they just aren't that great of a team. They've been slumping lately and their former #1 Andrea Bargnani hasn't done much of anything this year. Talk about disappointing.
It is good to see Dwight Howard turn into this generation's Shaq. You have to fear anyone that can easily give you 20/20. He'll probably end up as one of the best rebounders in league history. All the while Rashard Lewis makes $117 million to get outplayed by Turkoglu. Then again, without Rashard, Turkoglu wouldn't get the same looks.
Orlando in 5
#4 Cleveland Cavaliers V. # 5 Washington Wizards

I don't like the Cavaliers. At all. I try to keep things as objective as possible, but I rarely say anything positive about this team. There really isn't anything to like. But that's not going to make me pick against them, because I saw the first 2 games and LeBron James IS just that good. Imagine how many points he'd score if he could hit some free throws. He is just killing that team, but I don't think this series is over just yet. There is something about the Cavaliers that doesn't sit right with me, in terms of their team. When LeBron isn't he-man out there, they just don't look good. I remember hearing people asking who won the Chicago/Cleveland/Seattle trade, asking who it helped the most. Funny thing is, it probably is Seattle. Ben Wallace without his Detroit supporting cast, is just a guy who can block shots and grab a couple rebounds. No one fears the fro anymore. Delonte West and Szczerbiak live off of the looks LeBron can get them, they seem to struggle creating their own offense. What I'm trying to say is, Cleveland just gives off an aura of being beatable. Role players don't play well on the road typically, and this is where Washington can get back into this series. Caron Butler has been unimpressive, as well as Gilbert. Haywood has also been pretty solid, but needs to avoid foul trouble as really their only post threat. They just need to play better, as simple as that sounds.
It seems you can't mention this series without mentioning Soulja Boy, thanks to Deshawn Stevenson and LeBron James. Soulja Boy's label should send them a check for all the free publicity he's getting. For some reason, analysts feel the need to bring it up every game, on every show, at every halftime. The song was annoying enough, so please stop! I must admit though, that and the disdain these teams share for one another, makes this the most intriguing match-up in the East.
Cavaliers in 6
#1 Los Angeles Lakers V. #8 Denver Nuggets
The only reason Denver won't get swept is Allen Iverson. It's an unwritten rule that no matter how bad a team he may be on, they won't get swept. But they will surely get close, because they need JR Smith to play like a superstar to have a chance. Giving up 120 points doesn't win many games, and I wouldn't want to get into a shoot-out with a team with Kobe on it. That's usually not a smart idea. Even Pau Gasol is going crazy. I'm not a fan, but I wouldn't be surprised if they made it to the Finals.
A name I haven't mentioned, mainly because he may not matter, is Carmelo Anthony. I'm not saying he's not good, but is he relevant? I always defended Carmelo as being more than just another Glenn Robinson, and he is, but is he more than just a smooth scorer? Granted, he did improve his rebounding this season but he still lacks it on the defensive end. You'd love to see him become that complete player, someone with success. It just seems like he's doing more to hurt himself than help himself. More frustrating is how bad that team is structured. The Nuggets 20 years ago didn't win with all offense, why would it be different for these Nuggets? Hell, better teammates would help Carmelo's "legacy". I mean, look at Kobe. Over the last 3 years, he's had the same Kobe type seasons. The difference this year, his teammates have actually improved and they got Pau Gasol for a Big Mac combo with large fries. I guess that makes you the MVP somehow.
Lakers in 5
#2 New Orleans Hornets V. #7 Dallas Mavericks
Analysts were picking the Mavericks, trying to say the Hornets were too inexperienced and the Mavericks will finally step it up. Well honestly, I don't see that happening. I'm officially on the Chris Paul bandwagon, and I just don't think Dallas is that good. Dwyane Wade scarred that team, then Golden State poured salt on the wound. It's just not their year. I don't know what else to say about this series, so let's talk about the Chris Paul to Tyson Chandler pick-and-role. It's easily one of the nicest plays you'll see this post season, surpassing the Steve Nash/Amare Stoudemire pick-and-roll. Paul will see Chandler from anywhere on the court, and it's a mutual understanding what he needs to do. Chandler, knowing he only scores on this play and offensive rebounds, soon will be dunking down an alley-oop placed perfectly over the rim. If somehow Chandler can't get open, then Peja is there standing on the wing ready to drop the trey. The pick and pop with David West is equally as efficient and truly awe-inspiring. That's why Chris Paul averages 11-plus assists a game, those 3 plays.
The window for the Mavericks to win looks to be closed. Kidd is getting older, actually everyone on that team is getting older, they really could use some injection of youth. They also shouldn't still have to rely on Erick Dampier for post play.
Hornets in 6


#3 San Antonio Spurs V. #6 Phoenix Suns
When that game went into overtime, I saw the writing on the wall for the Suns. Then Tim Duncan hit a three, and the game was basically over. When Duncan hits a game tying three, the Spurs are probably going to win the game. And then trying to cover Ginobili with no one at the basket to stop a shot? Come on now. He's going left, and he's likely going to score. I never was a big Ginobili fan, but he's good. Game 1 was amazing. It was everything this series should be, I just hope there are no let downs for the rest of the series. This is the one series that NEEDS to go the inexplicable 7 games of the 1st round that makes it last 2 weeks. Tim Duncan was absolutely bananas. He always destroys Amare, because Amare cannot stay out of foul trouble. I thought thats what Shaq was supposed to help with, but he can't stay out of foul trouble. Thats what happens when your back-up big man is Boris Diaw, who he's not playing the undersized center in a fast paced offense role.
This is the best series of the first round, I just hope it isn't the best series of the playoffs again. Steve Nash and Tony Parker. Shaq and Duncan. Amare and Ginobili. The star power is there, the intensity is there, the history is there. I look forward to seeing some great games out of this series, with either team capable of winning the championship. To be honest, I don't see either doing it this year though. San Antonio just hasn't looked like the same championship team of a year ago, and I don't trust Phoenix's lack of depth. Play D.J. Strawberry, and only good things will happen. I hope I'm wrong, but........
Spurs in 7
#4 Utah Jazz V. #5 Houston Rockets
The Rockets need to beat the Jazz twice at home to win this series. There is no chance in hell of that happening. It's unfortunate, because they would actually have a chance to get out of the 1st round if they didn't have major injuries. Utah is just too good for them, especially since we are seeing an inspired Andrei Kirilenko for the first time in a while. If he can keep it up, the Jazz have a real shot at making it out the West. The light-skinned duo of Deron and Boozer is deadly, and matches up well with any other in the West. The LA/Utah 2nd round series is going to be epic, I honestly think Utah can take them. Kirilenko is going to have to do his thing on Kobe, but the same goes for Fisher on Deron. Both teams dig into their benches too, so it'll definitely be a fun series. I hate to just disregard the Rockets like that, but it is what it is.
Tracy McGrady is going to go 0-7 in terms of making it out of the first round for his career. That's sad, but it's a combination of things. He needs to take over games down the stretch as opposed to the first 3 quarters. 1 point in the 4th quarter is inexcusable, even if the defense is keying on him. He needs to show that he is THE man, but maybe he just isn't? At least not this post-season. A big problem is, he can't get easy shots. I can't believe it, but they need Rafer Alston to hit some 3's. I really hope he makes it out some time, I thought this was his "year". I give up on him, and the only reaction he can probably give is: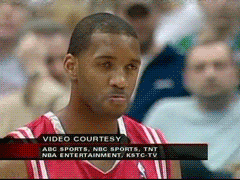 Jazz in 5 (...and that's being nice)